Checkbook vs. Dwolla
Posted by Checkbook on Jul 20, 2020

The unnecessary complications brought about by paper checks have become increasingly costly. Dwolla and Checkbook are two companies that aim to develop technology to overcome these hurdles.
Dwolla:
Dwolla, founded in 2008, focuses on automating business payments through the Automated Clearing House (ACH) Network. The Dwolla software is able to conduct a mass ACH, or bank-to-bank, transaction that can deliver thousands of payments within minutes. In addition, payers are easily able to track the status of payments.
Dwolla also created a system for Receive Only Users. Payers only need to collect the full name, email address, and bank account information of each Receive Only User. Then, payments can be sent in a single ACH debit transaction.
Dwolla is integrated with external systems including Quickbooks, Slack, and Plaid.
Checkbook:
Checkbook was founded in 2015 to eliminate the need for paper checks. Checkbook's main product is the Digital Check, which can be sent by businesses to multiple individuals through email. Similar to the Dwolla Receive Only Users' product, payers only need to collect the full name, email address, and bank account information of each payee.
Recipients of Digital Checks can select Instant Pay to receive funds. After confirming their bank account information, recipients are usually able to receive funds within 18 seconds. To accommodate for other preferences, recipients can also choose to receive Digital Checks in printed form or as a Virtual Card (VCC).
Checkbook is integrated with accounting systems – Quickbooks, Accounting Seed and Sage Intacct – to assist businesses with accurate record-keeping.
Both systems have starter pricing plans with no monthly subscription fees. Scaled pricing plans are also available.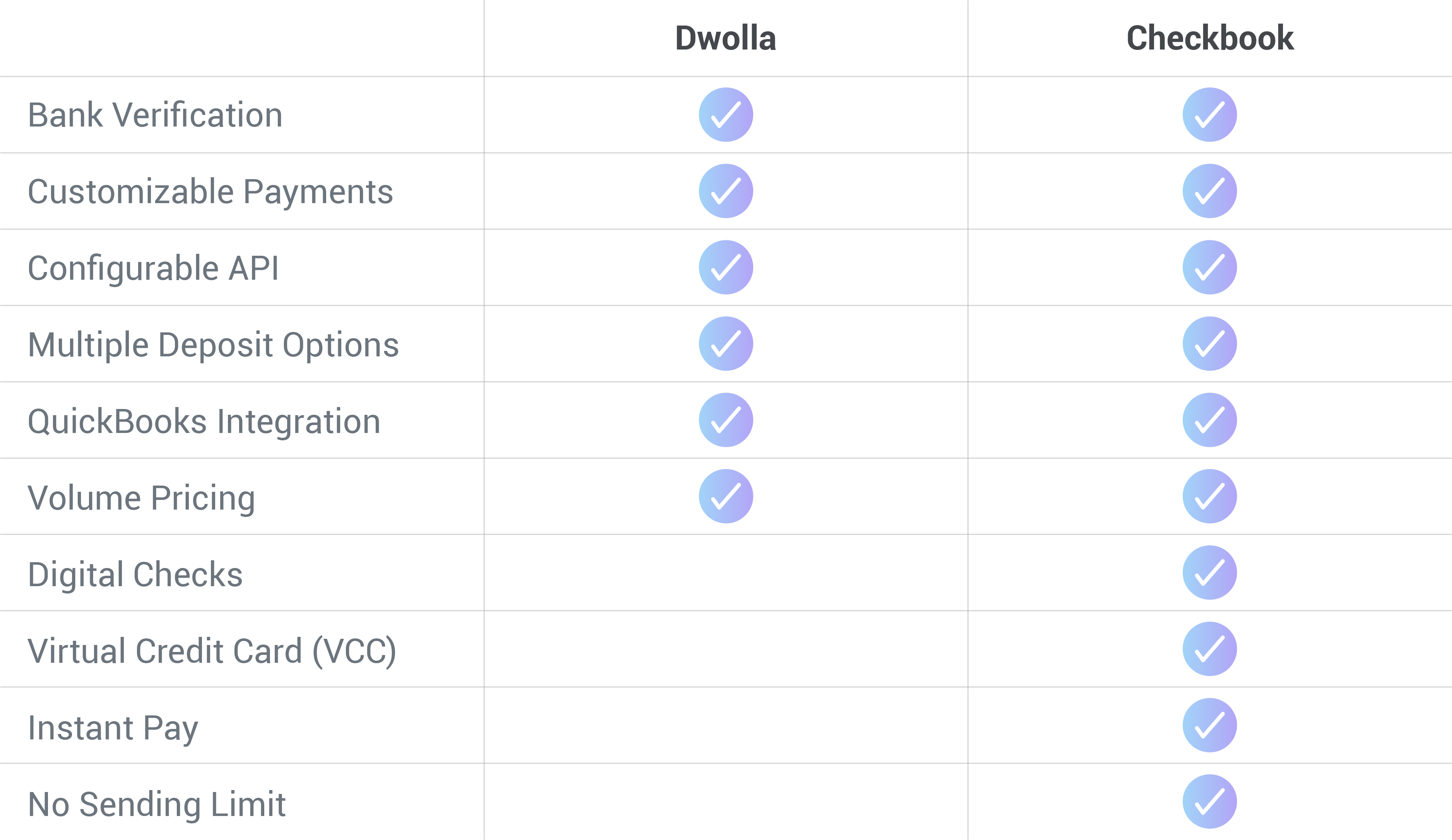 Related Posts
TERMS AND CONDITIONS FOR BUSINESSES
With Checkbook, A Payments Veteran Creates a Souped-Up Engine for Check 21 Clearing
The United States remains one of the world's last bastions of the paper check, a situation a startup called Checkbook Inc. sees as a massive opportunity.
The Anatomy of a 99% Completion Rate
Most payments happen without payors or recipients ever having to think about them. And that's the way it should be—in a perfect world, every transaction would be seamless. But it's not a perfect world, and the reality is that only between 92–95% of payments are completed successfully. While at first glance, that statistic may not be jarring, but think of it this way: what if your paycheck bounced 8% of the time? Suddenly 92% seems a far cry from acceptable.